Krachtige afdichtingsoplossingen voor zeer innovatieve doseerpompen met alle goedkeuringen
Angst+Pfister is proud to work with innovative customers and find solutions using a mix of off-the-shelf and specialist products. For Dosatron, the pioneer of dosing pumps, Angst+Pfister's engineers utilised standard O-rings from the HITEC® range, specialist components and other mouldings that are all in compliance with the American and European food safety regulations. A FKM developed in-house is looking particularly promising.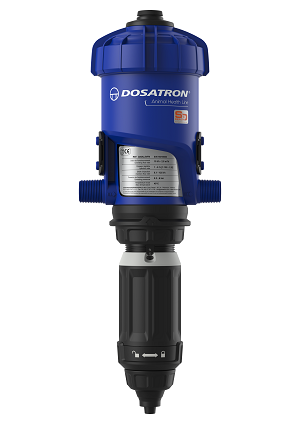 Customers buy their industrial components from Angst+Pfister because they value the engineers' technical expertise, and now word about their highly-regarded knowledge of regulatory requirements is spreading fast. "When the issue is combining the regulations from several markets in one material, then the manufacture of these components can be a really complex challenge," says Ludovic Morice, Product Application Engineer Sealing Technology, at Angst+Pfister France.


Keeping step with highly innovative customers

The French company Dosatron needs such business partners to maintain its high quality. Cooperation with Angst+Pfister on the FKM project began in 2013. At Dosatron, near Bordeaux, almost one hundred employees design, develop and manufacture high-precision proportional dosing pump solutions and market these in approximately one hundred countries around the globe. The electricity-free proportional dosing pumps made by Dosatron is regarded as revolutionary and awarded prestigious innovation prizes. The mechanical pumps can dose, for example, vitamins or medicine into the feeding and drinking systems for farm animals. The dosing pumps do not require electricity, but instead make use of the flow and pressure to dose a concentrate and mix it homogeneously into water. Dosage is always determined in proportion to the volume of water – and is unaffected by pressure fluctuations or the amount of water in the piping system. The system yields huge technical and economic benefits.
The dosing pumps contain HITEC® O-rings.

Understanding the regulatory jungle

About three years ago, Dosatron began the development of a new generation of dosing pumps – and Angst+Pfister's engineers were on board right from the start. The "Dosatron D25+" is one of the first dosing pumps to fulfil both the regulations of America's Food and Drug Administration (FDA) and those of the EU Regulation 1935/2004. Regarding the latter, the aim is to satisfy the harmonising regulation (EU) 10/2011 for plastics. The situation is more complex for elastomer materials as, "For elastomers that come into contact with foods, there is no unifying regulation at the European level, which makes things more complicated," explains Ludovic Morice. "The regulation states that EU members in this case can also introduce their own national regulations, and France has very strict specific regulations for rubber materials that come in contact with food, which stipulate overall and specific migration testing. The maximum permitted migration limit of a substance in the French regulations is one fifth that of the German Federal Institute for Risk Assessment (BfR)."

"We understand these regulations and are in a position to incorporate the mechanical and chemical requirements in our components," continues Ludovic Morice. Such expertise is held in high esteem by internationally active customers like Dosatron. In this project, the focus was on O-rings and mouldings for several static and dynamic seals for a dosing pump. The seals have to withstand aggressive chemicals for their entire operating life and demonstrate specific mechanical properties – while at the same time complying with the various regulatory guidelines. "Angst+Pfister has been able to fulfil all the requirements in the specification document," says Ludovic Morice with a sense of pride.


Solution: a combination of standard and specialist solutions

The dosing system for foods by Dosatron combines a sealing solution, incorporating HITEC® O-rings that comply with the high requirements of the regulations. The used FKM seals are very suitable for contact with strong chemicals.
Angst+Pfister now makes several components for the Dosatron pumps. "We are always looking beyond our product group," explains Ludovic Morice – and Angst+Pfister is working with Dosatron not only on seals, but also fluid handling and plastics technologies.
Find out more about APSOseal® Sealing Solutions

published: 7 sep. 2020 15:03:00 by: Angst+Pfister Group