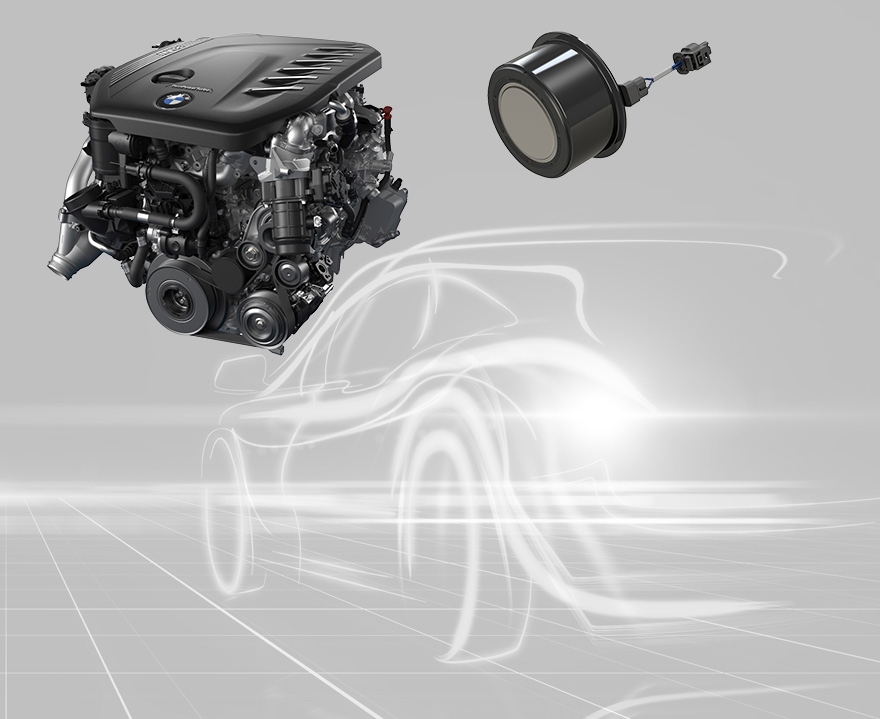 KEB Automation is a medium-sized company operating across the world with over 1,400 employees. It owes its customer success to exemplary virtues such as hard work, ambition and reliability – and a dedication that is "Made in Germany". This laid the foundation for the continuous growth of the company, which has been supplying its customers with drive technology for over fifty years - from control systems to engines to specialist brakes and connectors.
One of KEB's customers, an automotive supplier, was looking for an electromagnetic connector to control a water pump – which was going to be built directly into the pump. The water pump, in turn, was going to be integrated into the diesel engine of a leading German car manufacturer. The connector, therefore, had to have a cap affording protection from various substances in the engine compartment - for example, oils, hot steam, dirt and water.
«The ever increasing customer requirements in this project were certainly a big challenge. In addition, our core expertise is in electromagnetic components and not necessarily sealing caps or end caps. Always ready to adapt to new conditions, Angst+Pfister was a very valuable and reliable partner.»

Hartmut Brünger, R&D Automotive, KEB Automation
«It was important to be thoroughly involved in the complex discussions, be persuasive with technical knowledge, to be on site regularly and think in terms of solutions.»

Jan-Ole Rienhoff, Product Application Engineer Sealing Technology, Angst+Pfister Germany
High pressure – good communication
"Our customary technical problem-solving expertise was doubly tested on this project," remembers Jan-Ole Rienhoff, Product Application Engineer in Sealing Technology at Angst+Pfister. "After a lengthy design process, all of a sudden there was the imminent production start-up for millions of parts – and the car manufacturer's deadlines coming thick and fast." At the same time, additional challenges were encountered along the supply chain. The component was modified rapidly in a highly iterative process. "It was important to be thoroughly involved in the complex discussions, be persuasive with technical knowledge, to be on site regularly and think in terms of solutions," says Jan-Ole Rienhoff. "Customer contact and communication are incredibly important in projects like these."
There were aspects to be considered such as: What sort of geometry would be suitable for the confined space. Given the cap need to be designed around the existing components. And: How can we make sure that the cap stays firmly in place? Limited space meant minimal supporting surface. Simultaneously, it was important to keep the insertion force to a minimum. And last but not least: Which design would also make most sense from a business perspective? "Standard solutions were not going to go far with this," Jan-Ole Rienhoff realised straight away. They had become accustomed to looking for the best compromises. At the end of the day, the component also needed a highly specialised assembly vulcanisation tool.
Finding unconventional solutions
In the end, the cap centre was made from an enclosed stiffening plate of stainless steel over-moulded with a sealing rubber. "Rubber on its own would have been insufficient. It had to be combined with a non-corrosive metal for extra strength," explains Jan-Ole Rienhoff. The first prototype was based on an open stiffening plate with a rubber membrane. The rotation force meant that it inflated and came too close to other components. In addition, at the end, the solution for the cap was a "non-tight seal". Three grooves in the outer rubber corrugation serve as vents to prevent a vacuum. Otherwise the cap could pop out. Grooves in the rubber make the cap easier to mount. The team went for an acrylic rubber (ACM). "In this engine space, the material was a cost effective alternative to high-grade FKM," continues Jan-Ole Rienhoff. Tests concluded that the elastomer material does function effectively.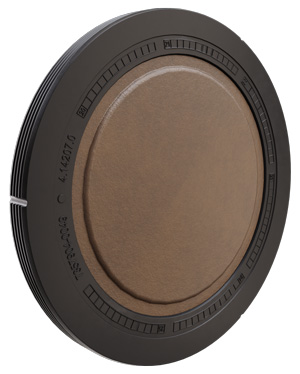 For this sealing cap, a stiffening plate
is over-moulded with rubber.
More related information:
published: 10 mrt. 2022 16:30:00 by: molded parts