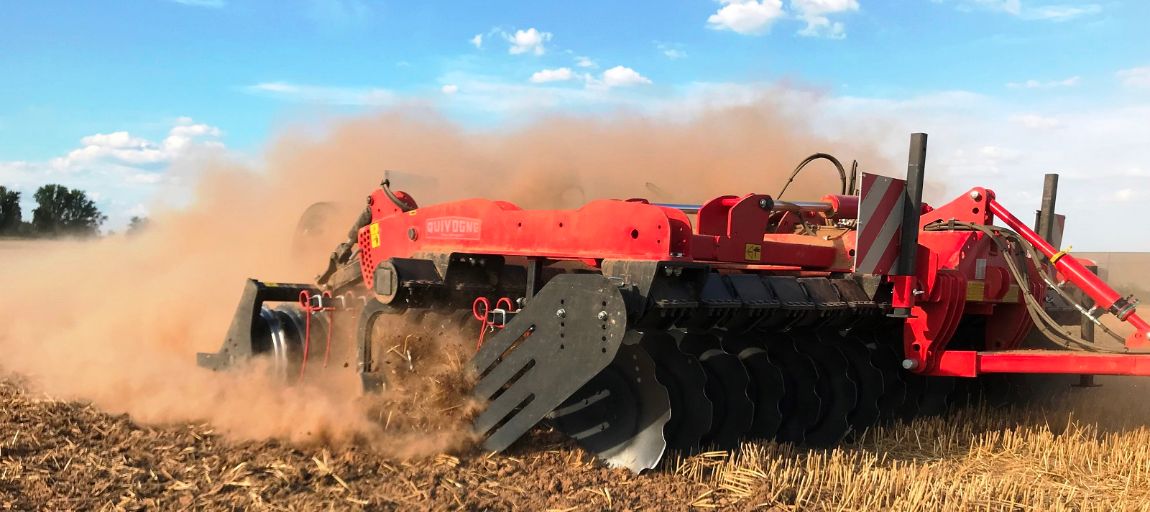 Disc harrows are pulled through stony, unruly soils. Swivel joints protect the individual discs.
There are two options for swivel joints in disc harrows: You can just hope for the best, but then it is only a matter of time until the rubber cords show visible damage and your equipment can no longer be used. "Particularly for the key components like rubber cords, if you use so-called cheap materials sooner or later you can expect customer complaints," says Philippe Kirsch, who knows from experience. The International Business Director of Angst+Pfister has seen more than a few frayed rubber cords as his teams supply several disc harrow manufacturers.


Extreme working conditions

Disc harrows are used for preparing soil. The metal discs (or tines) frequently have to till soil under tough conditions – stones can deal sharp knocks. Soil is rarely homogeneous, and every single disc has to be protected and insulated with a swivel joint. The inclination of the discs means they also have to absorb lateral forces. The company Quivogne, in the French region of Haute-Saône, builds agricultural machinery with 150 employees and sells in forty countries – around 15,000 items of equipment annually, including umpteen disc harrows.

As an innovative business, Quivogne's focus is on high-quality machines and improving quality. It can prove expensive if a machine that has been delivered to the other side of the world does not function as desired. And the Frenchmen do not want to jeopardise their good reputation. The disc harrows have to penetrate and breakdown compacted soil – in this case, over a span of about 12 metres. To do this, they need a couple of hundred rubber cords – four per disc, that is, per swivel joint. Each group of four is mounted between an internal shaft and an external bracket applying pre-stress (see image).


Software for durability

"If you understand the importance of rubber cords and you want to do more than cross your fingers and hope, then you come knocking at our door," says Philippe Kirsch pleased. Even advance field trials do not guarantee a long service life. Some manufacturers perform field trials – nothing happens, the machines are delivered, but then the complaints come in anyway. "Poor material is often done for after one year – especially with really tough soil," says Kirsch. Many companies resort to excessive pre-tensioning of the rubber cords to compensate for the characteristics of cheap rubber. But even top products achieve nothing if they have not been installed correctly or the design is unsuitable.

Service life is always curtailed by such mistakes. But where do manufacturers begin to analyse the stresses? How and what feeds into the calculation? This is precisely why Angst+Pfister is far more than your standard supplier of rubber, because as a responsible technical partner, it can provide customised support. Angst+Pfister calculates the service life of the swivel joints by applying finite element analysis. Software scrutinizes the stress the materials are placed under and the rubber is adapted accordingly. Selecting and developing suitable materials are among Angst+Pfister's core competencies. The analysis is carried out at the in-house laboratory and production facilities in Turkey. Close collaboration between the Development and Production departments means Angst+Pfister can offer cutting-edge high-tech compounds to meet stringent requirements and specifications. Even highly specialised requirements and bespoke needs regarding quality, plasticity and properties of customers can be satisfied. Particular attention is paid to flow qualities and processability. Ultimately, the in-house advanced testing facilities provide the required quality.
«Thanks to state-of-the-art testing, we can quickly and accurately predict how long rubber components will last.»

Philippe Kirsch, International Business Development Director, Angst+Pfister Group
High performance rubber compounds

The relaxation properties of the cord, for example, are crucial for high performance. The cords are compressed by 25 percent and then stored for 24 hours – a standard method. Angst+Pfister's products maintain their original shape after compression set tests such as these to the greatest possible extent. "We do not manufacture extruded cords. They are injected into a forming mould under a pressure of five hundred tons," explains Philippe Kirsch. This results in optimum rebound capacity and improved tensile strength. The engineers and material specialists at Angst+Pfister have developed elastomers able to function when not in their comfort zone and that show no sign of degradation even under extreme mechanical stress. The relevant properties are clearly defined and measured by Angst+Pfister.

"After the tests, we know straight away how long the cords will last," says Philippe Kirsch. Only then are prototypes handed over for testing on site at their customers' premises. Top quality materials are essential for swivel joints! Quivogne has been a regular customer of Angst+Pfister's rubber cords for two years now – to the benefit of the French family company's good reputation.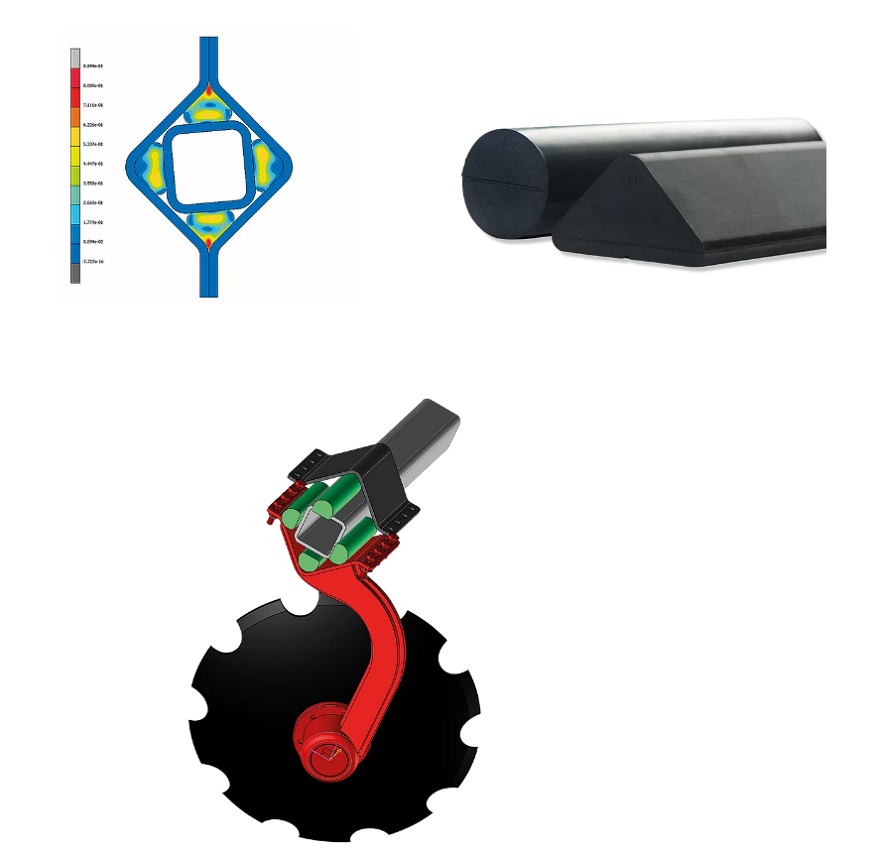 Each swivel joint is equipped with four rubber cords (green).
Find out more about APSOvib® Antivibration Technology
Find out more about our agriculture solutions
published: 30 sep. 2020 09:30:00 by: Angst+Pfister Group