Tek üretici, tek ürünle tüm onaylar
The engineers at Angst+Pfister have produced a clever logistics and technical solution, that in combination with their expertise in plastics and sealing technology, and consultancy on the approvals processes, has culminated in new APSOplast® POM-C seat valves for the latest generation of ULTRAMIX® thermostatic mixing valves. Now, the customer, Watts Industries, can provide a single type of mixer for the entire European market.

Athletes will agree that no matter whether you have won or lost, it's a great feeling to relax under the shower for a while – and in no time at all, you're back ready for action. But it only works and feels good when the temperature is right and stays right. Watts Industries France manufactures products for sanitary and heating systems as well as drinking water installations. Convinced by the high quality of Angst+Pfister's PTFE components, the company has been a customer for many years.
Combining strengths

Watts Industries planned to widen its customer base in additional European countries for a new product: thermostatic mixing valves for municipal sanitary installations such as swimming pools, sports halls, hospitals or camping sites. The industrial water mixers regulate the cold and hot water stream to maintain a set temperature. To do this required a precise, stable and dependable regulator – and a new business partner who not only had a complete grip on the minimal tolerances of the seat valve, but also knew the approval processes for plastics technology inside out.

The mixers are intended for sale in France and beyond in the Netherlands, Britain and Germany. There is no such thing as one single EU standard – there are several different national certificates and approvals. Angst+Pfister knows a lot about this subject and got involved when Watts Industries put the project out for tender. "Even at the first meetings with the Watts research department, we were able to demonstrate expertise in additional areas," says Anita Kouakou, Product Application Engineer at Angst+Pfister France. Not only was knowledge of plastics technology and approvals beneficial, so was Angst+Pfister's experience in sealing technology.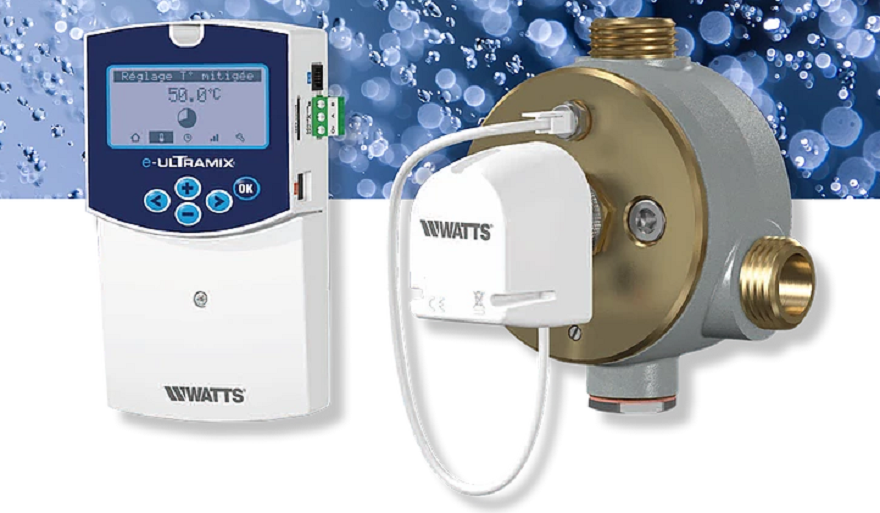 Meeting complex challenges

"From then on, we talked over the sealing technology with our experts in-house," says Oubihi Abderahmane, who heads the French Profit Center for Engineering Plastics Technology in France. Consequently, his team was therefore already able to propose technical modifications based on the drawings provided by the customer and in line with the customer's needs. The issue was one of finding the optimum texture of the seat valves for a perfect seal – this had been a problem with the previous solution. Angst+Pfister engineers in France then focussed on the right material and the relevant approvals. The seat valves had to comply with the following market requirements:
​
France – Sanitary Conformity Certification (ACS)

Britain – Water Regulation Advisory Scheme (WRAS)

Germany – Plastics-Drinking Water Standards (KTW) and the test procedure W270

Netherlands – KIWA certificate

Anita Kouakou advised her customers that the KIWA certificate would be unnecessary as the two German approvals KTW and W270 are equivalent to this certificate and generally recognised in the Netherlands. This meant lower costs for the Watts Industries as the German approvals have only to be renewed every five years, unlike the KIWA certificate which has to be renewed annually. The quality managers of Watts Industries were also in agreement. Then Anita Kouakou's team looked to purchasing suitable materials. This was no easy task as some producers keep their formulas secret – and if the ingredients are not known, the approval procedure cannot be passed.


Cost optimisation
The answer lay in the synthetic resin Hostaform® M25AE. This is a polyoxymethylene (POM-C). To manufacture the components, Angst+Pfister's Italian company bought semi-finished parts in large quantities. The logistics set-up of the Angst+Pfister Group worked in Watt Industries' favour and the high minimum order quantity for the material was avoided.

Just one year after the tender, Angst+Pfister is now at the stage of delivering the new seat valves as a standard product to Watts Industries: "One manufacturer, one product, all approvals." Anita Kouakou and Oubihi Abderahmane are delighted.
Find out more about APSOplast® Engineering Plastics

published: 16 Eyl 2020 11:17:00 by: Angst+Pfister Group