A solution can be produced in next to no time for many of the challenges facing Angst+Pfister's engineers. The technical support team and the ready-availability of highly specialised standard products make it a fast and uncomplicated process to find the right antivibration component for customers like Manitou: For its MLA-T 533-145 V+ (Castelfranco) telehandler, Manitou has selected APSOvib® H-Mounts.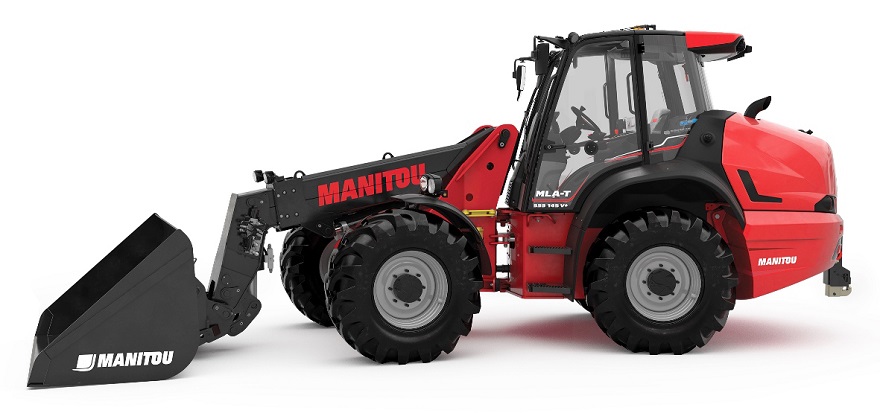 Manitou designs, manufactures, and distributes roughterrain handling material for agriculture, construction and industries. They are used the world over for example, in cereal production, livestock farming, construction or quarries, forestry and airports. Time and time again you hear: "In these situations there is absolutely no margin for error," says Christian De Marco. He is an engineer working for Manitou in Italy.

Knowledge rather than components
The components Manitou's suppliers provide have to be of such a quality that they pass the tests the first time round. Manitou relies heavily on the technical support of its suppliers. Manitou in Italy has worked closely with Angst+Pfister for many years. Many of its machines are fitted with engine bearings and cabin suspension made by Angst+Pfister. "You can always optimise. We were looking for a new antivibration solution for the steering pump on one of our telehandlers," recounts Christian De Marco. It was creating significant oscillations inside the telehandler reducing its service life and making it uncomfortable for the driver. The engineers at Angst+Pfister soon realised that the stiffness of the current antivibration components had not been sufficiently customised for use.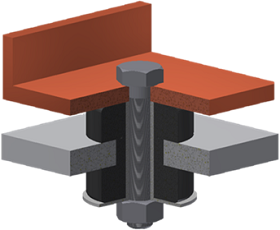 Custom solutions straight from the warehouse
This was how the engineers of Angst+Pfister were able to reduce the unwanted oscillations without the cost of time-consuming tool development, etc."Our customers benefit from the highly-specialised products that we keep in stock no matter whether we are talking about two items for prototypes or a last-minute request for x-thousand for a production series," says Philippe Kirsch. Angst+Pfister's APSOvib® H-Mounts are already absorbing vibrations in numerous suspension units, engines and gearboxes, cabins, cooling systems, compressors, pumps, exhausts and generators for many customers.The potential for application is huge and the price very competitive. H-Mounts are available in a range of sizes and in three different shapes for different stresses: with and without prestressing or with metal inserts to reduce wear. Each size and each shape is available "off the peg" in four rigidities."Further customisation on request is not a problem," mention Filippo Galli and Riccardo Cristina.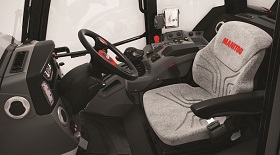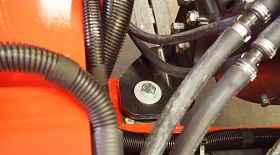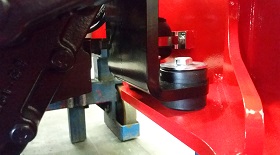 On-site problem solving
"There were two areas where we clearly stood apart from our competitors in this project," says Philippe Kirsch of Angst+Pfister, looking back. He is the Business Development Director in the agriculture and construction machines sector. In the first place there is the technical support that Christian De Marco spoke about: "When he rings us, we don't simply refer him to a page in our catalogue," says Philippe Kirsch. "We pay a visit, we ask questions, we take measurements and we make sense of the problem." In cases like this, after one or two tests there has to be a good solution ready on the table – swiftly and easily. For that to be possible, Angst+Pfister has a portfolio of standard products that in its breadth and depth is second to none. On site, the two engineers Filippo Galli and Riccardo Cristina focussed on insulating the vibrations in the telehandler. "We count on the technical experience of these two," says Christian De Marco of Manitou. "That's why I called them." Based on the existing housing and the anticipated work load, the Angst+Pfister guys suggested a product from the standard catalogue: A short time later, Manitou took delivery of the APSOvib® H-Mounts in two different rubber compounds for testing. Due to its chemical properties, chloroprene rubber better known as neoprene is suitable for contact with oils, fats, UV radiation or ozone and good for use in agricultural and construction machines.
«Further customisation on request is not a problem.»

Filippo Galli, Sales Application Engineer, Angst+Pfister Italy
Riccardo Cristina, Product Application Engineer, Angst+Pfister Italy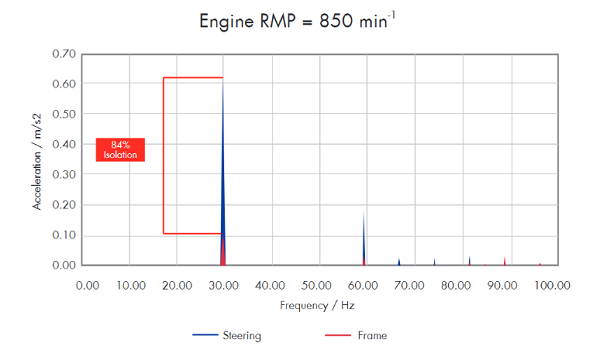 To define a suitable mounting setup for the steering pump, Angst+Pfister did measurements with APSOvib® H-Mounts in different stiffnesses. The aim is to find the best possible solution with the highest isolation efficiency. The measurements show the occurring acceleration amplitudes at the correlating frequency.In this case there is a clear excitation at 30 Hz visible on the steering pump. The APSOvib® H-Mount helps to reduce the transmitted vibrations by 84%.
More information about APSOvib® Antivibration Technology
published: 3 Ağu 2020 15:54:00 by: Angst+Pfister Group