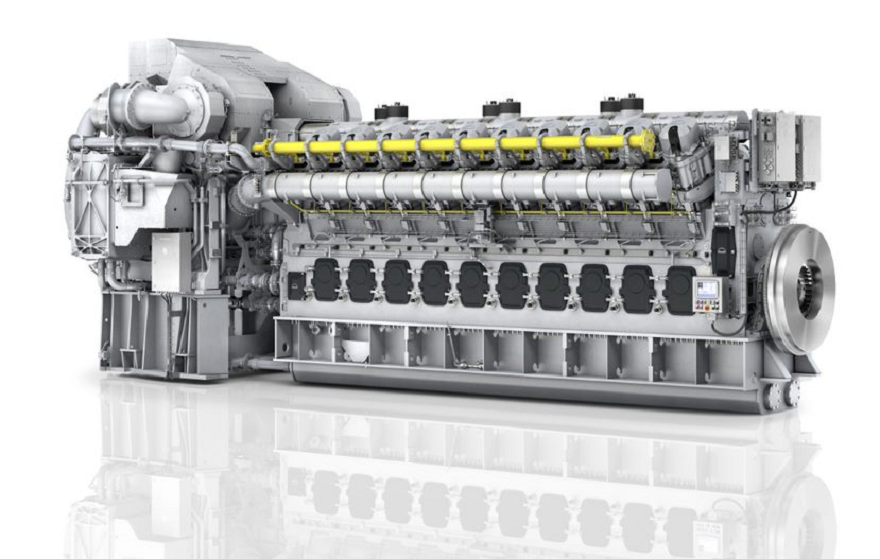 MAN Energy Solutions is leading in the field of cogeneration power plants in Germany. The MAN 20V35/44G TS gas engine convinces with its high efficiency and flexibility.
MCM SpA, located near Bergamo in Italy, has been part of the Angst+Pfister Group since the beginning of 2019. The company specializes in tailor-made rubber seals for industries such as the automotive, aviation and petrochemical industries. MCM is also known for its highly-fluorinated material solutions, which feature a high level of chemical and heat resistance.

In 2017, MAN Energy Solutions began the search and validation of various suppliers of new O-rings for its marine and stationary power engines. The reason for this was a new corrosion protection agent, which is widely used in Asia and the USA in particular, requiring the O-rings to have the necessary long-term resistance. In addition, resistance to high temperatures and, depending on the product, to hot water, steam and coolants, fuels, engine oils or a combination of all of these was also required. "We wanted to take advantage of this opportunity", says Paola Ghirardelli, Sales Manager at MCM. "Our strength is that we're flexible and can respond quickly to requests or problems during a project. We wanted to convince our customers with the highest level of attention, flexibility and competence in order to build up a relationship based on trust." Supplier approvals for other leading global corporations also helped here.


MAN – The highest performance with the lowest emissions

MAN Energy Solutions, headquartered in Augsburg, is a 'big player' in the sector. Amongst others, the company develops and produces large liquid-fuel and gas engines as well as turbomachinery for its marine, power and industrial customers, making it a world leader. MAN Energy Solutions employs more than 14,000 people at over 120 locations worldwide. With its sophisticated and reliable technologies, the MAN brand stands for longevity, efficiency, flexibility and environmental performance. The aim is to make its engines more sustainable, more powerful and more efficient – take the MAN 35/44G TS gas engine. Gas engines from MAN Energy Solutions are an ideal solution for cogeneration power plants as they offer the highest flexibility. Within three minutes, the motors can be switched from idle to full load operation and switched on and off as required. Operating at a total efficiency of up to 90 percent, these cogeneration solutions make particularly effective use of its fuel. Such gas engines require numerous sealing rings in the engine area – whether for the cylinder head, nozzle leakage, valve guiding, fuel flow or the pressure control valve. The sealing rings must be able to run for long periods within a large temperature range and be highly resistant to any of the chemicals mentioned above. Here, MCM's development expertise was also in high demand.

"As in the automotive industry, for example, this sector also demands more and more performance from materials. They have to withstand ever more demanding conditions", says Paola Ghirardelli. At the same time, cost optimization is a continuous topic. "So, it's often a matter of identifying new compounds that are also more competitively priced - and within a reasonable period of time".

More performance despite cost optimization

For validation by MAN, MCM carried out the O-ring test in accordance with the new requirements, procured the liquids and other media for ageing tests and managed the implementation of all of the tests in a laboratory recognized and accredited by MAN. MCM evaluated the results and identified the most effective materials. MCM technicians and experts Paolo Lavelli and Oliviero Mismetti shared the results with MAN laboratory managers to define the new specifications and identify the materials needed for the new requirements.

"We have the capacity for large deliveries and this type of development, as well as a very high degree of flexibility with regard to solution development.", says Paola Ghirardelli. Another potential advantage: A specially colored coating can distinguish original MAN parts from the rest. Other manufacturers aren't able to copy them so easily. For MAN, it's important that original seals are used on the engines. Incorrect seals can pose a risk to engines if their resistance to corrosion inhibitors, oils or fuels does not meet the highest standards.


Proven at sea

MAN is testing the O-rings in a number of engines which are equipped with O-rings in four different materials and several sizes from multiple suppliers, one of which is MCM. The customer continuously reports on results, and so far seems very impressed with the materials from MCM: MCM has already received orders for seals for some of the engines. "Our goal, of course, is official approval from MAN to be able to supply O-rings worldwide for various applications", says an optimistic Paola Ghirardelli.
«As in the automotive industry, for example, this sector also demands more and more performance from materials. They have to withstand ever more demanding conditions.»

Paola Ghirardelli, Sales Manager, MCM
Find out more about APSOseal® Sealing Solutions
Go to MCM
published: 24 Eyl 2020 10:40:00 by: Angst+Pfister Group