Fewer emissions without compromising safety and comfort thanks to Angst+Pfister conical bearings.
"I need a new global partner who can assist us with technical development, meet our quality standards, deliver punctually and manufacture in a location where costs can be kept down," demanded Richard Tillett. He is the Purchasing Director France and Purchasing Director Global BCC Sourcing at the American agricultural machinery manufacturer AGCO. "Designing components jointly with customers like this is right up our street," replied Philippe Kirsch at the time, International Business Development director at the Zurich headquarters of Angst+Pfister. And: "As a partner, we do not shy away from taking responsibility for the engineering."
Geared up for agriculture

Next year, Angst+Pfister will have been operating in the agricultural industry for 100 years. Highly trained technical advisors make use of the extensive portfolio of standard products and also design custom products for sealing, fluid-handling, drive, plastics and antivibration systems. For the latter, the APSOvib® range sets the standard in industry – be it for rubber shock cords for swivel joints, absorbers for power steering pumps, bushings for axles, antivibration mounts or even conical bearings for driver cabs – as is the case with AGCO. The conical bearings are jacks-of-all-trades: As a standard product, they are available in eleven sizes each with three different stiffnesses to cushion knocks and braking forces or absorb engine vibrations.


Ever increasing demands on engines

However, the cab bearings for AGCO was a case in point for the development team of Angst+Pfister. AGCO was looking for cab bearings, for its tractor brand "Massey Ferguson" produced in Beauvais, France, as part of the conversion process for its engines to meet the new Stage V EU standards – introduced at the beginning of 2019 for all mobile machines. A reduction in emissions increases the specifications for constructing engines. The major difference in the Stage V EU standards is the use of catalysers and particle filters. Catalysers reach a temperature of about six hundred degrees Celsius. As they are located quite close to the cab, this has implications for the bearings. The natural rubber that had been used previously had excellent mechanical properties – but only to about seventy degrees Celsius.

"We did not want to lose the great properties of natural rubber or its longevity," relates Philippe Kirsch. Nowadays a higher standard of comfort is required for the driver cabs of agricultural machinery – people spend their working days in them. They are often equated to passenger vehicles; in some ways they are even superior. Quality vehicles eliminate vibration and noise.
«With genuine engineering, we develop extremely heat-resistant elastomers that simultaneously compete with the mechanical properties of rubber»

Philippe Kirsch, International Business Development Director, Angst+Pfister Group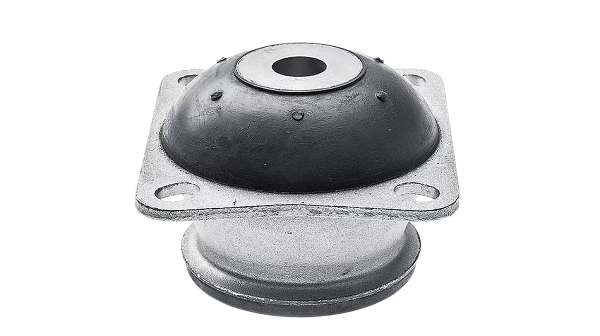 APSOvib® HD cone bearings withstand the hardest blows and the temperatures of emission stage V engines.
Comfort and safety guaranteed

The APSOvib® HD conical bearings are made to achieve maximum absorption of low frequencies, which are always difficult to absorb. "HD" stands for "High Deflection" – referring to the large spring deflection of six millimetres – and this performs particularly well on working tractors dealing with hard knocks. The stiffness is both progressive and limited. In other words, they initially react softly to vibrations, but become stiffer – as the cab is subjected to more force. This effect is a result of the geometry of the conical bearing, which can be customised case by case. The APSOvib® conical bearings are also calibrated to comply with the Roll Over Protection Systems rules. The cab remains on the vehicle in certain accidents. In addition, each tractor must pass the ROPS (Roll Over Protective Structure) tests.

The challenge was not only to avoid compromising the comfort and safety of the tractor, but at the same time to support AGCO in the changeover to more environmentally friendly engines. For the conical bearings, this meant designing an elastomer that could withstand 110 degrees Celsius – and also match the excellent mechanical properties of the natural rubber. "When you try to take into account extreme conditions, such as temperature in this case, you usually lose some of the mechanical properties," explains Philippe Kirsch.

One thing is sure: Angst+Pfister was able to draw on its vast experience for compounding. In this way, thanks to the innovative high temperature rubber elastomer the development team was able to minimise the aggravating noise in the cab. This was confirmed both by the tests conducted by Angst+Pfister and those conducted by AGCO.
Creating added value for customers

"That is real engineering," says a happy Philipp Kirsch. Getting to understand the problems, shouldering responsibility, looking for solutions – this is how to generate added value – and it suits the engineers of Angst+Pfister right down to the ground. The Angst+Pfister laboratory and its production site are certified compliant with the highest standards of the automotive industry and supply conical bearings for Stage V tractors to AGCO factories worldwide.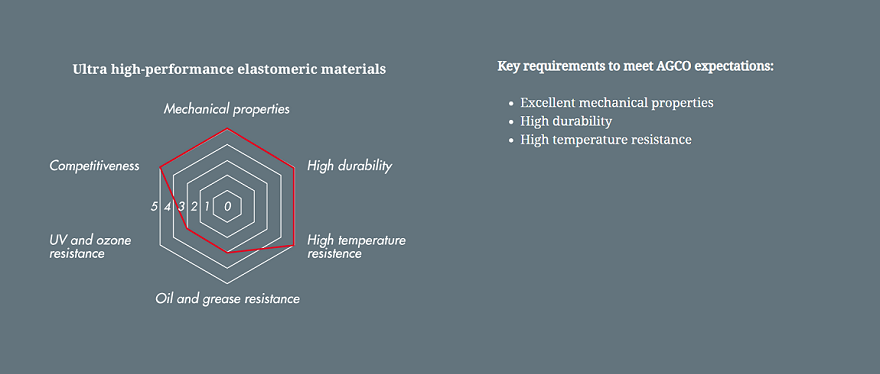 Find out more about APSOvib® Antivibration Technology
Find out more about our agriculture solutions
published: 8 Eki 2020 08:22:00 by: Angst+Pfister Group