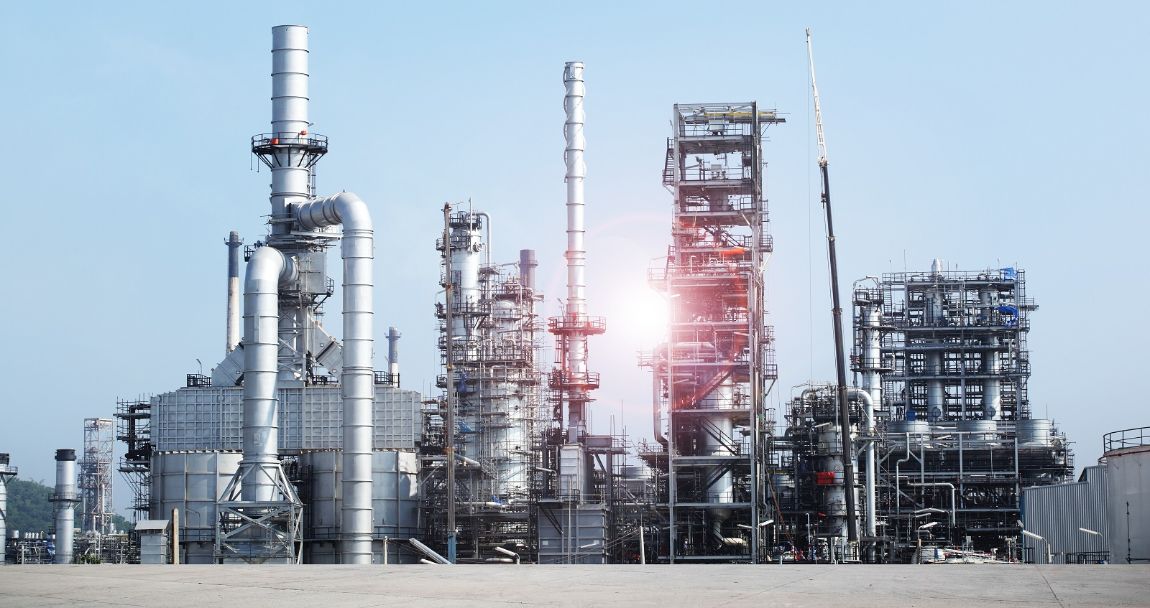 "Our network leverages the expertise of three companies for customers worldwide," says Paola Ghirardelli, Sales Manager at MCM SpA in Italy. The company has been part of the Angst+Pfister concern since 2019 – along with its associate company O.L. Seals of Denmark. Both companies already had a successful collaborative business relationship with Angst+Pfister going back many years. The aim of the merger was to unite the expertise of all three companies in high-performance seals in order to expand the customer base and seals portfolio.

Elastomer and PTFE products
MCM uses high-performance elastomers to manufacture challenging sealing solutions such as O-rings, delta rings and moulded seals in diameters ranging from a few millimetres to two metres – in low volume to high volume production, and is involved from development of the material to the finished product and beyond to material certification and project validation. This is what brought the company to the fore in Europe. It currently supplies prestigious customers worldwide in the chemical, automobile, space, pharmaceutical and food processing industries. "We have carried out multiple successful projects for the chemical, oil and gas industries, for example, for manufacturers of valves, pumps and compressors," says Paola Ghirardelli pleased. In the Angst+Pfister logistics alliance, MCM is an increasingly sought-after partner for customers in Asia and USA.
In addition to the high-performance fluoroelastomers (FKM), hydrogenated nitrile rubber (HNBR) and elastomers based on Aflas (FEPM) are deployed by customers worldwide. They offer exceptional resistance to aggressive media and chemicals such as sour gas, amines, methanol and aromatic hydrocarbons. In addition, they can be utilised in applications in a very wide-range of temperatures – from minus 60 degrees to plus 340 degrees Celsius. They are also exceptionally stable in hot water and steam.
Another area of focus is polytetrafluoroethylene components (PTFE) – produced in cooperation with O.L. Seals and its technical support in design and development. For example, back-up rings or spring-energised seals can also be integrated in a wide range of applications: in extreme temperatures or aggressive environments such as offshore, high-pressure, cryogenic or energy systems. The PTFE seals meet the highest of safety and performance specifications required by international organisations.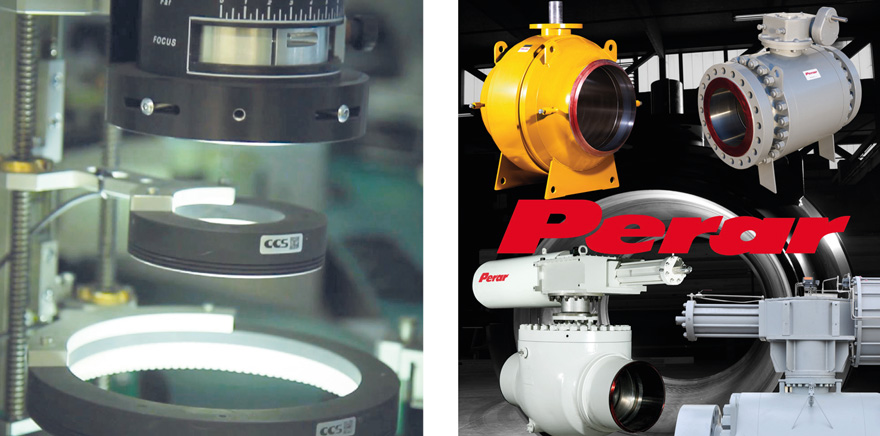 Left: The visual inspection of an O-ring under the microscope at MCM in Italy.
Right: MCM supplies numerous companies such as Perar, a leading manufacturer of ball valves.
Benefits for the petrochemical industry worldwide
Numerous materials have been developed for the oil and gas sector. "Networking with Angst+Pfister and O.L. Seals, we are excellently placed for these industries. Consequently, we can often claim pole position in the European markets and beyond," explains Paola Ghirardelli. The networking strategy allows MCM to react to customer requirements both flexibly and with efficient logistics. A fully automated smart warehouse in Italy supports operations. This is where thousands of seals in many sizes are always in stock and ready to ship. "We often deliver within 24 hours," says Paola Ghirardelli, not without pride. Demand is high in the petrochemical market. MCM can react quickly because many of its materials have already undergone testing for numerous applications and have the necessary certifications.

Successful together – for our customers
A good example of how the network benefits customers is a recent order for an international company – a global leading manufacturer of industrial valves, flow control solutions. "In 2020, we contributed to the company completing the largest customer delivery in its history," says Paola Ghirardelli with delight. These are customer success stories appreciated by MCM in Italy. "It's made possible by years of development in new materials. In this project, we used an HNBR 90 AED O-ring with cord thickness 10.82 millimetres – the only one on the market with NORSOK M710 approval. We also supply articles with API6A or Saudi Aramco certification." In addition, success like this requires high-quality service, investment in warehousing logistics and a strategic network. In real terms, MCM buys high volumes of products annually and makes them available to its customers for easy purchase.
"This system will mean that in the future we will also be providing customers with innovative solutions in PTFE components," says Paola Ghirardelli happily. This is the way forward – customers and networks growing together.
«We have carried out multiple successful projects for the chemical, oil and gas industries, for example, for manufacturers of valves, pumps and compressors.»

Paola Ghirardelli, Sales Manager, MCM
Project example FKM – HNBR – FEPM in cord 90 and 98
Approval in accordance with Explosive Decompression (ED): NORSOK M-710, O-ring with cord 10.82 mm

Special peroxide polymer GF, approval in accordance with Saudi Aramco 06-SAMSS-001, 2013-2017, O-ring with cord 10.82 mm

Approvals in accordance with sour gas resistance (H2S): NOR SOK M-710 ISO 23936-2, NACE TMO187 and API 6A 10 % H2S FFHH

Longer service life: Life Prediction and AED test – Arrhenius ISO 23936-2, ITN84700/A

Shell MESC SPE 85/301
Learn more about MCM

Learn more about our solutions for the oil & gas industry
Back to the Magazine Stories 2021
published: 5 Şub 2021 10:17:00 by: Angst+Pfister Group