Angst+Pfister's relationship with this customer goes back many years, and time and again, it has yielded benefits for both parties: AVS Römer is a leading manufacturer, producing 6300 products in- house, such as screw connections, magnetic valves and sensors. The company is based in Grafenau, Germany with about 350 employees and deeply committed to applying its experience and knowledge in providing training for the technical professions. AVS Römer supplies many major companies with its products. These include the food, medical and chemical industries.
"A key customer segment is the coffee machine industry – just as it is for Angst+Pfister," says Yves Riedo, Senior Engineer Sealing Technology. A project that has now been completed involved the sealings for quick couplings, valve components and screw connectors (see figure) for a range of global industries. "This meant a whole raft of approvals had to be obtained," explains Yves Riedo. The O-rings and moulded seals made by Angst+Pfister are integrated directly into these products.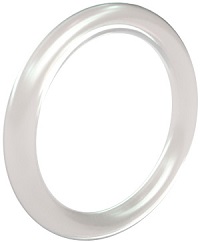 O-ring

Bringing skills together
Until recently, AVS Römer was, of necessity, using different materials – depending on the application: food, drinking water or gases. This was because no single material exhibited all the required properties. Alongside approvals for various markets, durability under exposure to chemicals and extreme temperatures is also a requirement: The seals have to comply with the standards for drinking water and food applications, and also be able to withstand steam and cleaning solutions. "It is a fact that cleaners and descalers are now more aggressive and place higher demands on all the parts with which they come into contact," relates Yves Riedo. And temperatures are becoming more extreme. In the past, ethylene-propylene- diene rubber (EPDM) was the go-to material. Today's conditions mean that the problem of durability is likely to be a recurring issue. For this reason, fluorinated rubbers (FKM) are being used more often now. "But it's more difficult to get approvals for them," says Yves Riedo.
In 2016, Yves Riedo informed AVS Römer that Angst+Pfister would be in a position to manufacture one material suitable for all applications and markets. The positive reaction of the customer encouraged him to get its development started at Angst+Pfister and to formulate a new compound from the PERTEC® product line (see box). Innovative projects like this always benefit from Angst+Pfister's business model. "We transfer requirements and knowledge to the entire value-added chain of the components – from the compounders to the producers and marketing to the customer," says Yves Riedo. And the customer benefits directly from optimal use of the latest technology. "This is why it is always like fitting a jigsaw puzzle together."

«If you want to supply all of Europe, you have to comply with the regulations of each member state, for example, those of the German Foods, Consumer Goods and Feedstuffs Code (LFGB) as defined by the German Federal Institute for Risk Assessment (BfR) or the French Arrêté in France.»

Yves Riedo, Senior Engineer Sealing Technology, Angst+Pfister Group
PERTEC® UP FKM
The PERTEC® product family is Angst+Pfister's solution to strict regulation across different industries in different international markets for multiple applications – whenever top performance and quality are required. "UP" stands for a promise: ultra pure. The polymer was designed specifically for the pharmaceutical, food and medical industries on the basis of the need to protect human health. PERTEC® UP FKM is remarkable for its mechanical capabilities – in a temperature of -20 to +200 degrees Celsius. The material is also extremely resistant to chemicals such as aggressive cleaning products.
Understanding materials and markets
In its own production facilities Angst+Pfister developed an all-rounder compound that unifies all the standards and regulations. The requirement specifications defined the most important demands that would be made on the material. From there it went to compounding. "In talks with the customer, compromises were sought so that ultimately the chosen formulation would win through in all points," recalls Yves Riedo. The cost of having a compound certified very quickly reaches several tens of thousands of Swiss francs, and takes two to three years. The new mix offers AVS Römer a 'worry-free package' for approvals and logistics as only one single material has to be managed. "This is why it makes a great deal of sense to do this, even though our material costs that bit more," says Yves Riedo. It also complies with the standards of the "Bureaux National Interprofesionnel du Cognac" (BNIC) and, as such, is even suitable for deployment in the production of brandy.
PERTEC® UP FKM combines many globally relevant food approvals and a drinking water approval in the PAH category 1. PAH stands for polycyclic aromatic hydrocarbon, listed by the International Agency for Cancer Research as proven to be, or at least suspected as being, carcinogenic. PAH category 1 is the class with the strictest maximum permitted levels. In addition, it also has approval from the Federal Institute for Materials Research and Testing (BAM) for gas applications. "Hence, our rubber compound brings several unique advantages to the market," says Yves Riedo.
Angst+Pfister today supplies AVS Römer with O-rings in around fifty different sizes and several moulded parts made from PERTEC® UP FKM.

Learn more about our PERTEC® materials
Back to the Magazine Stories 2021
published: 2021年2月10日 4:46 by: Angst+Pfister Group