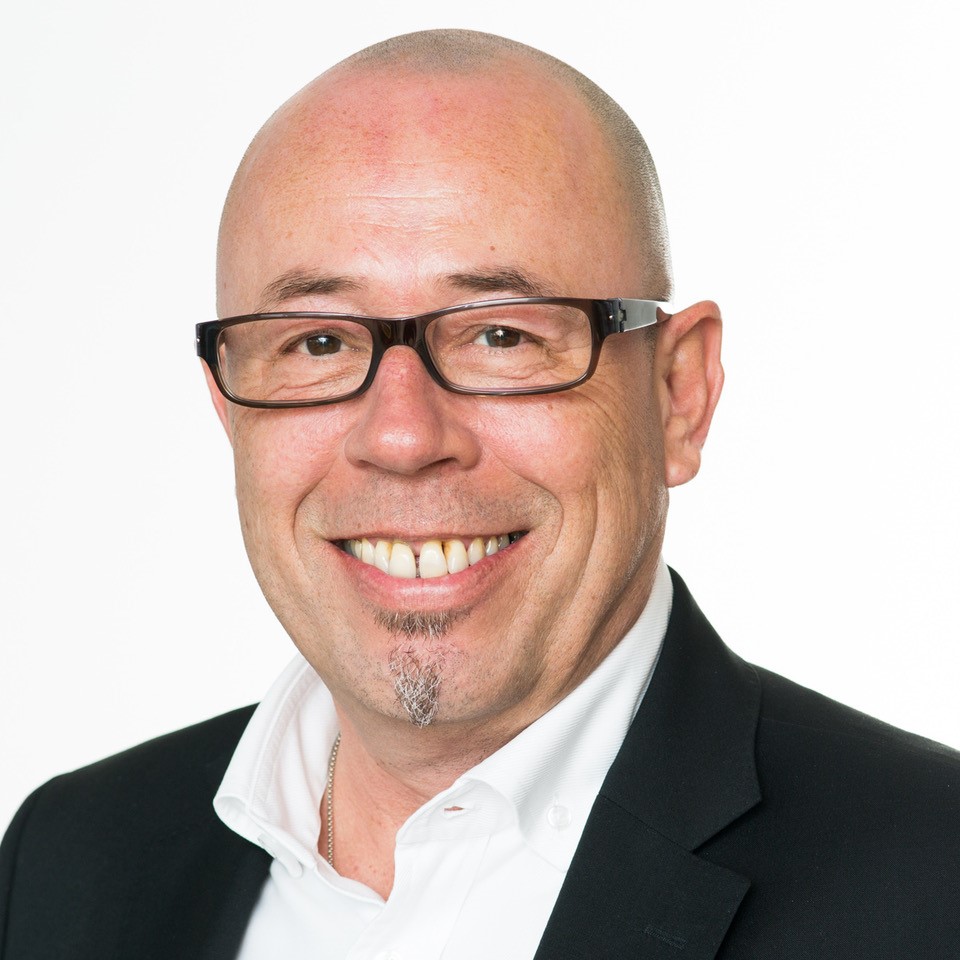 Author: Reto Müller is the Product Leader of Sealing Technology
at Angst+Pfister's Head Office in Zurich


One Friday afternoon, a leading coffee machine manufacturer in the end-consumer market puts through a despairing call to his component supplier: "A whole consignment of coffee machines is being sent back. The Chinese customs won't allow them in the country." Evidently, there was no GB 4806.1 approval. The accompanying approvals from the American Food and Drug Administration (FDA) and other countries would no longer be accepted in the Chinese market.

A little later another coffee machine manufacturer in the professional market got in touch. He was unexpectedly facing a technical issue: An O-ring that sealed the piston in the brewing unit had failed after only 10,000 cycles. Friction, hot water, and the current cleaning process with chemicals apparently result in much shorter service life than for any of the other elements in the brewing unit. The result is costly maintenance work.

These examples demonstrate the increasingly demanding requirements for applications in the food and beverage industry. The call is for more and more specialised and customised high-performance seals. Aseptic processing has an essential role in the food and beverage industry. However, the stipulations for pure materials often go beyond "hygiene": Coffee machines might not be subject to cleaning-in-place (CIP) processing with aggressive cleaning products or sterilisation (SIP) with steam or peracetic acid, but the media nevertheless pose challenges. This is why exceptional mechanical properties are even more essential – as the example of the brewing unit shows.

Industry-specific approvals
Global coffee machine manufacturers are increasingly confronted with new requirements for industry-specific approvals for all the major markets, such as Europe, China, South Africa, and the USA. Ideally, components such as O-rings should be made from one single high-performance material that fulfils all requirements. This would avoid the use of multiple industry-specific or country-specific solutions. Regulations and approvals are a dynamic world that requires close monitoring. The example of the coffee machine manufacturer who experienced sudden discontinuation of export to China is a good example of this.

In addition, there are concerns about elastomers containing a higher percentage of polycyclic aromatic hydrocarbons (PAHs) across the whole industry. They were found to be potentially carcinogenic. PAHs are an integral technical component of mineral-based extender oils and carbon black pigments. Hence their presence in many elastomers. PAH limits are divided into three categories: Category 1 is the one with the strictest limits for materials that come into contact with food or the mouth - or for materials that are used in toys with skin contact (longer than 30 seconds).

Seals for coffee machines
Coffee machines present many of the challenges that are found throughout the food and beverage industry. For the manufacturers of seals, they provide a typical example. Increasing consumption of coffee in the developed markets and the quickly growing new markets confront coffee machines with ever more difficult specifications that have to function worldwide. The PERTEC range is Angst+Pfister's solution to meet these very varied requirements. The best proof of how the food and beverage industry benefits from it is the market success of these high-performance materials.

So, what is the best seal material? From the point of view of sealing technology applications, professional or large household coffee machines can be subdivided into two groups: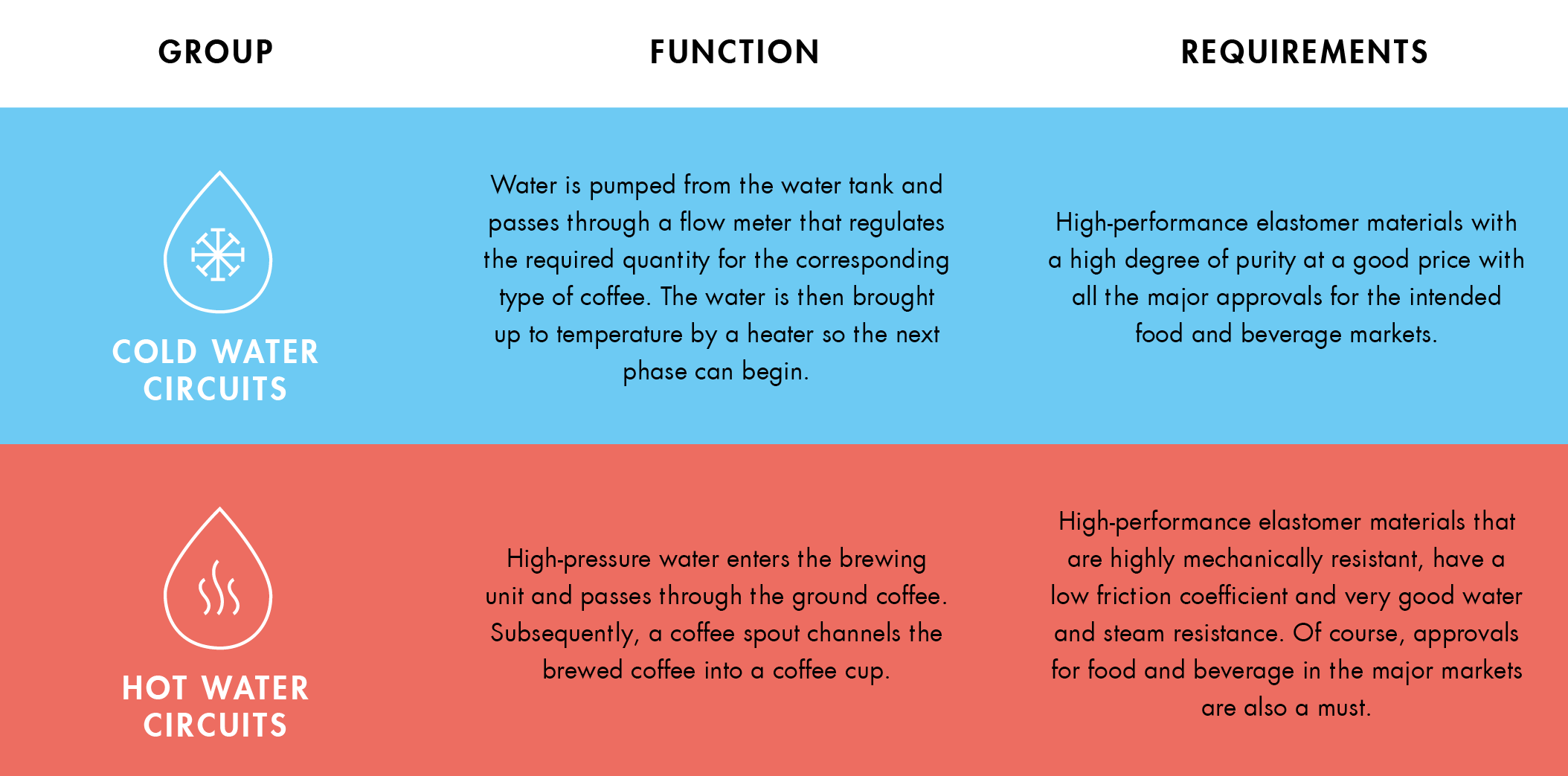 Cold water circuits - optimal sealing materials
Some manufacturers choose traditional EPDM, standard VMQ, alkaline NBR, or a combination of these for their sealing elements in cold water circuits. From a purely functional point of view, a standard EPDM is a good choice. For this reason, Angst+Pfister has gone to great lengths to develop a high-purity EPDM that complies with food regulations. All the main food requirements from the positive list and also the migration tests can be fulfilled by PERTEC UP EPDM 70.503-04. Equally, PAH category 1 conditions are fulfilled. This material is available in a Shore A hardness of 70 and 80. In addition, the use of different materials leads to unnecessary complexity regarding specifications and logistics.

PERTEC UP VMQ is an ultrapure silicone made by Angst+Pfister for the particular requirements of food and beverage applications. The wide working temperature range from -60 to 200 degrees Celsius, its exceptional mechanical properties and high chemical resistance make it an ideal solution. In addition, PERTEC UP VMQ covers numerous approval requirements such as CFR 177.2600 (FDA), GB 4806.1, French Arrêté, BfR XV, EC1935/2004, 3-A Sanitary Standard, and several others. The silicone easily satisfies the criteria for inclusion in PAH category 1 and has an extremely low VOC (Volatile Organic Compound) value. That means: One single sealing material meets all requirements, eliminates potential health concerns, and avoids the complexity for customers that multiple materials would bring. This material is available in a Shore A hardness of 70 and 50.

Sealing materials for flow sensors
Flow sensors are critical components: They measure the quantity of water, which varies according to the type of coffee. The O-ring has to perfectly seal the two plastic parts in an open groove. The medium is cold water at very low pressure. Ultra-pure PERTEC UP VMQ offers triple benefits:
Compliance with the drinking water, food, and beverage industries approvals including those of PAH category 1

Special packaging: the O-rings are packed in air-filled sacks to prevent deformation during transport

Added performance: An oily micro-coating prevents the O-rings from sticking together and ensures that they slide along the assembly line correctly – for greater efficiency in the production process.

Hot water circuit - optimum seal materials
In environments like this, the seal materials have to comply with food regulations such as the CFR 177.2600 (FDA), 3-A Sanitary Standard, NSF 51, EC 1935/2004, those of the German Federal Institute for Risk Assessment (BfR) and many others determined by customer requirements. They need to be highly resistant to chemicals and thermally stable to maintain their sealing function – during and after exposure to the cleaning processes, high-temperature steam for sterilisation, and the hydrocarbons and fatty acids contained in coffee.

Cleaning products usually contain aggressive chemicals such as nitric acid, hydrogen peroxide, peracetic acid, sodium hydroxide, and potassium hydroxide. The cleaning process itself is carried out at high temperatures up to 75 or 85 degrees Celsius. Coffee machine manufacturers traditionally choose silicone and EPDM materials for hot water circuits. However, these materials do not always provide the best durability and stability in all conditions. High-temperature processes with acidic and alkaline substances tend to degrade the siloxane bonds of silicones. This can significantly damage seals after several hot water cycles. EPDM is therefore a good solution: It can withstand high temperatures and acid and alkaline media. Apolar substances such as fats, oils, and their derivatives, which are natural components of the coffee bean and also present in brewed coffee, cause swelling and mechanical damage to EPDM.

This is why Angst+Pfister developed the high-performance material PERTEC CIP FKM 75.501-04 – a peroxide-cured FKM that can withstand the harsh food industry CIP processes and is the best choice for coffee machines. It is exceptionally mechanically resistant while complying with many important food regulations. The material's resistance to hot water and steam also makes it a best-in-class solution for other food and beverage applications.

Sealing materials for brewing units
The brewing unit is indisputably the most important component of a coffee machine: This is where hot water extracts the flavours from the ground coffee beans to create delicious coffee. The brewing unit presses hot water into the ground coffee by means of a piston unit and performs a linear vertical movement. This process requires an O-ring or a lip seal to perfectly seal the piston unit. In addition to the requirements for chemical resistance due to the cleaning processes, the seal is subjected to friction from the coffee grounds: mechanically abrasive particles containing fatty acids, oils, and fats from the coffee beans.

The coffee machine might not function correctly with a broken or worn seal in the brewing unit. Compared to a seal made from conventional silicone, which can withstand over 10,000 cycles, PERTEC CIP FKM was able to extend the service life to 40,000 cycles thanks to exceptional tribological properties. The interval between costly servicing is also reduced. Numerous approvals for food and beverage appliances enable the seal to be used in coffee machines around the world.

New solutions for reduced costs
The food and beverage industry places ever higher requirements on seal manufacturers: more performance and more stringent approvals. Frequently, conventional solutions are no longer the best solutions. Quite the opposite: They can result in high costs. That's why seal suppliers with proven competence create advantages - and prevent disadvantages in the markets. Angst+Pfister applies its technological know-how in developing and producing high-performance seal materials. They are precisely designed to meet the highest technical and regulatory requirements of the food and beverage industry. The seal solutions fulfil these requirements with one single material - without limitations. Last but not least, they also reduce costs thanks to more efficient production processes, longer servicing intervals and simpler logistics.



More related information:

published: 23 sty 2023, 23:12:00