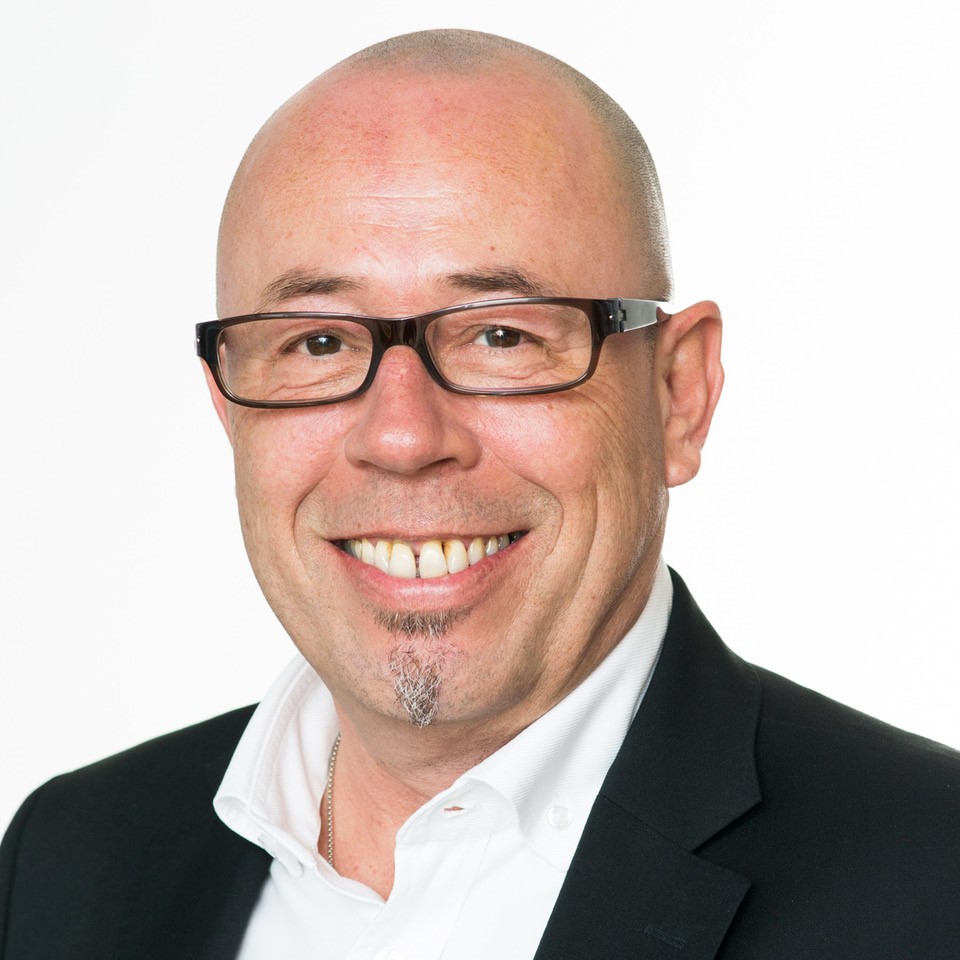 Author: Reto Müller is the Product Leader of Sealing Technology
at Angst+Pfister's Head Office in Zurich

Seals are inconspicuous yet essential in the food and pharmaceutical industries. They are of great significance for the economic efficiency of production, while material costs are often of minor importance. Using seals "smartly" requires an open mind: What are their properties? What are they made of? How is procurement made efficient? How are they used? When the expertise of the rubber producer adds to that of the plant operator, the engineering skills of the sealing experts work their magic. And they always pay off.

Let's take a medium-sized dairy as an example: It uses 2000 to 3000 valves. Each of them needs five to ten O-rings for sealing. Any leak will cause the entire production line to be stopped. The standstill is extremely costly: If the dairy has an annual turnover of 365 million euros in continuous operation, a production downtime will cost it 41,000 euros per hour, and perhaps a batch of products that must be disposed of.

Individually adjusted durability
The lifespan of a seal is crucial: Which material can withstand the specific conditions of the process? As requirements continue to increase, approvals are also restricting material choices. How should increasingly demanding conditions and stricter regulations be balanced while keeping costs low? Focusing sheerly on inexpensive materials often leads to a cost trap as supposedly cheap seals may cause the operation costs to rise significantly. While high-quality elastomers often prove to be a more economical solution due to their lower maintenance costs.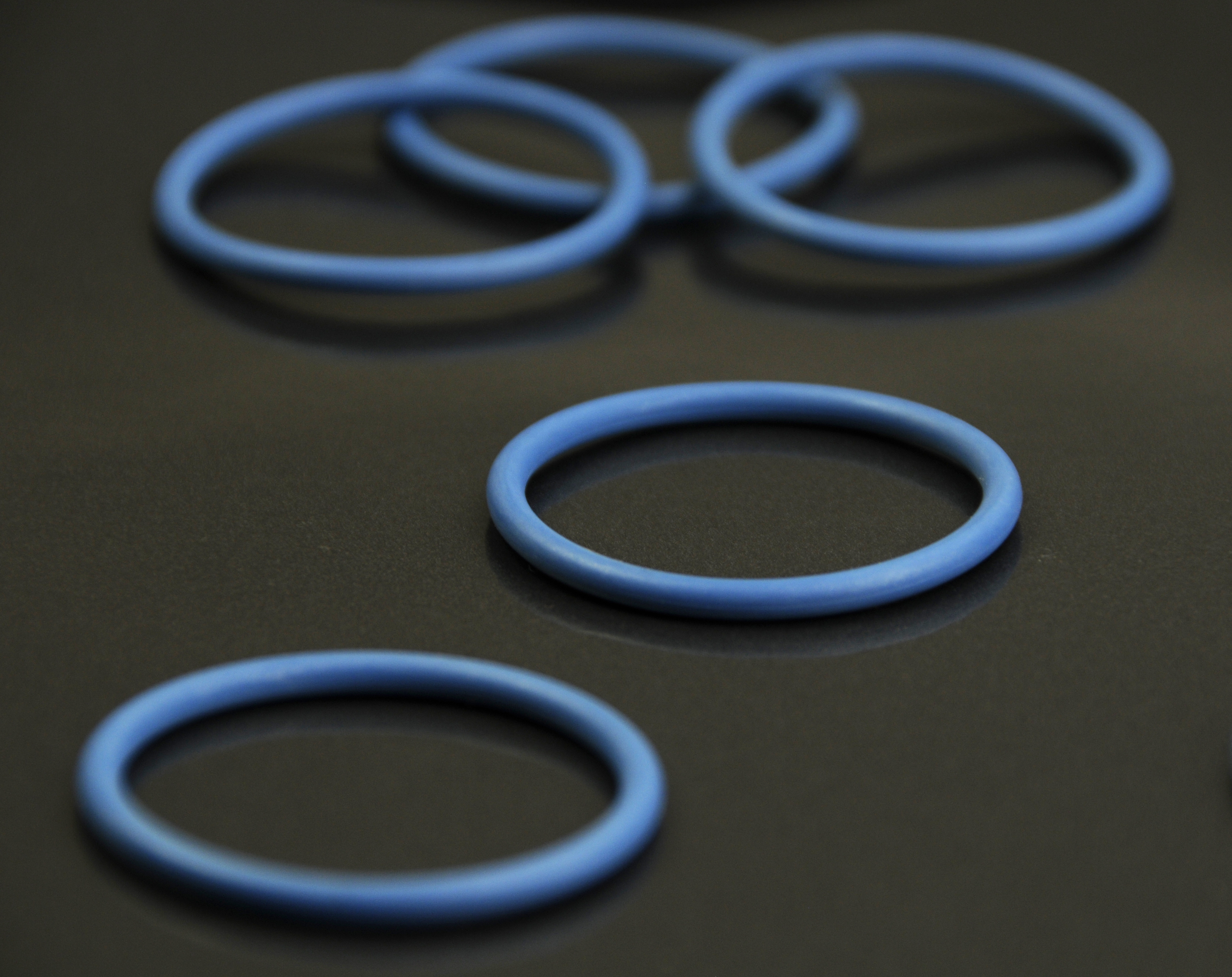 Materials for long maintenance periods
Cleaning and friction, in particular, cause seals to age and sometimes be replaced. The 3,000 seals at our dairy will sure cause expenses. That's why plant operators desire long maintenance intervals with short interruptions. In the highly efficient clean-in-place and sterilization-in-place (CIP/SIP) processes, the more aggressive media and higher temperatures (up to 160 degrees Celsius and sometimes higher) faster corrode the seals and shorten maintenance intervals. So in CIP/SIP processes, EPDM or FKM are often the only materials to be considered. While EPDM is still the preferred choice, FKM is becoming the elastomer of choice as requirements for temperature resistance increase.

Sterilization usually takes place at 140 to 160 degrees, where EPDM almost reaches its limit, considerably shortening the lifespan, and this is the case with our dairy: In order to remove the aroma carried over from a new yogurt, the concentration of the cleaning agent is increased, and the sterilization steam is raised from 150 to 160 degrees. The result: the EPDM O-rings had to be replaced every four weeks. Understanding how materials react to temperatures, flavors, cleaning agents, or friction requires thorough testing beforehand. For this, Angst+Pfister provided the necessary testing infrastructure at several locations.

Standardized testing procedures for CIP media
As CIP media differ in pH value, test procedures will determine the most resistant elastomer. In this case, highly overdosed media with a concentration of 50 percent is used in a move to stress the elastomers to guarantee their performance. The O-rings are immersed in the media for three, seven, and 14 days at defined temperatures, and the media will cause the rubber compounds to swell. Measurements including hardness, density, break resistance, expansion, volume, and mass are taken before and afterward. These values indicate how well the rubber performed.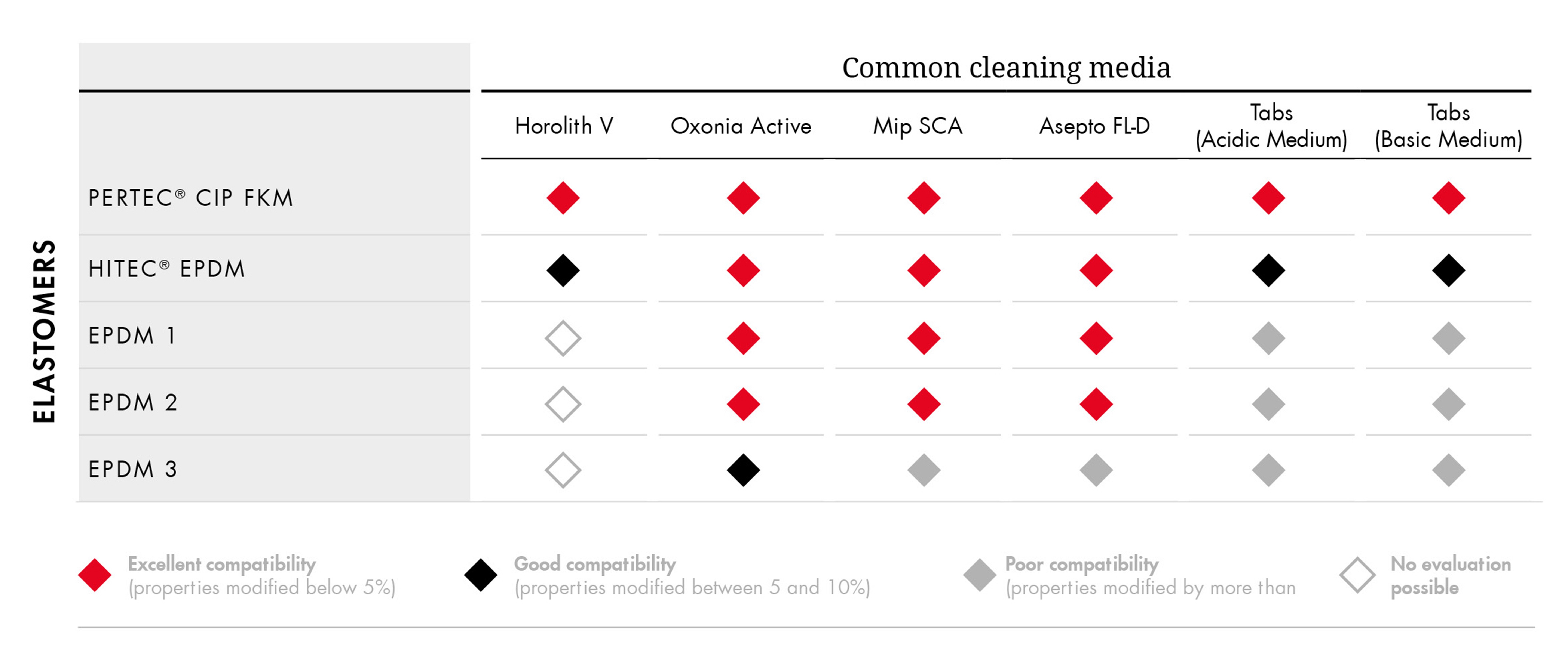 Particularly regarding highly aggressive CIP media, high-performance elastomers such as PERTEC® FKM CIP sport significantly better chemical resistance in the demanding tests.



Compression deformation and abrasion
For SIP resistance, compression set tests are performed in 180- and 210-degree steam from distilled water. The rubber is compressed in autoclaves by 25% for 24 hours. After cooling, the seal is measured to the extent it returns to its original size. How strong is it still? For dynamic applications, the material also needs mechanical resistance, so the abrasion resistance is also tested. Owing to special manufacturing processes, FKM high-performance elastomers from Angst+Pfister prove remarkably slidy in tests.

Experience values for flavor transfer
Angst+Pfister performs aroma migration tests in collaboration with a manufacturer of packing equipment. Any individual flavoring substance, such as lemon or menthol, imparts a different diffusion coefficient to each specific mixture. A higher coefficient means that more flavor will remain in the rubber and can be released into the next production batch. Such tests help us demonstrate the diffusion coefficients of about 20 of the most common flavoring substances in high-performance elastomers. As a rule: FKM seals beat VMQ or EPDM seals. However, it is always important to consider which products and flavors are being processed on the line. There are huge differences in aroma diffusion even within the same elastomer family.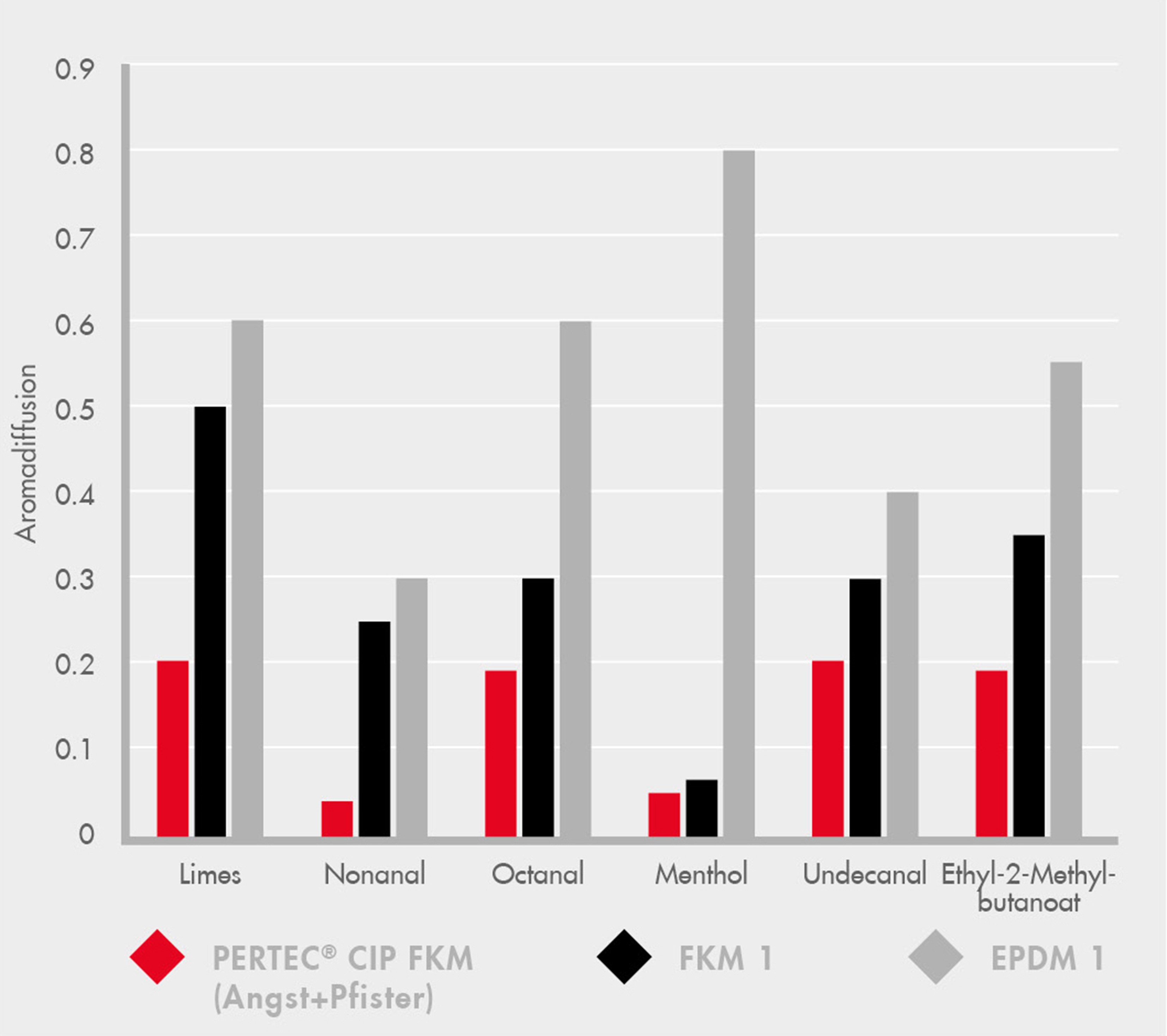 High-performance elastomers such as PERTEC® FKM CIP generally reduce flavor transfer compared with standard FKM and EPDM products. Tests show significantly lower diffusion coefficients.

Keeping track of approvals
Companies are rethinking their approach to compliance as there are more controls and sanctions. Angst+Pfister is involved in important industry committees discussing standards and regulations at an early stage. We are therefore raising awareness among our customers. In the past, elastomers only had to be FDA-compliant, meeting the requirements of the US Food and Drug Administration. Now, many countries have issued their own regulations, including positive lists or migration tests for rubber compounds in contact with food or drinking water: Which ingredients are allowed in the compound? What is not allowed to escape? This limits the choice of materials, and the common ground is sought in each case. For drinking water applications, even microbial growth tests are required.

Materials for worldwide use
With regard to rubber, there is no legal harmonization comparable to the European Plastics Regulation 10/2011 (1935/2004). Major countries are pushing it forward, but this will still take several more years. Until then, for example, each country individually determines the following in migration tests: How long must a rubber be placed in which solvent at which temperature? External testing laboratories are more than happy to see this, the certificates for material are expensive. Numerous tests have to be repeated periodically. For some applications, even the production has to be audited. Many materials from Angst+Pfister are first-rate regarding combined approvals for several markets. The standard portfolio incorporates countries/regions with country-specific certificates, including USA, MERCOSUR, China, and Europe, or industries such as the cognac industry.

Overall cost of operation in view
Consider the case of a medium-sized dairy: In this case study, new seals made of PERTEC® FKM CIP increased maintenance intervals from one to 18 months. Angst+Pfister is a major developer of such high-performance elastomers: PERTEC® FKM CIP is an all-rounder combining superior chemical resistance with high abrasion resistance, low flavor transfer, and extensive approvals. A PERTEC® FKM CIP seal is about ten times more expensive than an EPDM O-ring: However, the high-quality seal only has to be replaced four times over six years, compared with 72 times for the EPDM product. Therefore, even the material costs are saved in the long run. But they are still out of all proportion to the loss of sales due to maintenance work or production downtime. Since PERTEC® combines many properties in one product, logistics are also simplified. The total cost of operation is massively reduced.

Dairy case study: Comparison of material costs for seals over six years. The massive costs of production downtime and, for example, procurement and storage costs are not included.

More related information:

published: Jan 23, 2023, 6:40:00 AM