Innovative power for the food industry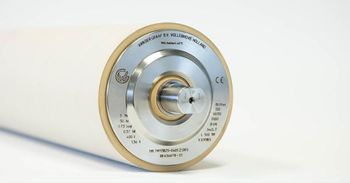 Van der Graaf, the Dutch manufacturer of drum motors for belt conveyors, was looking for the right partner to produce seals for its motor shafts. Since Van der Graaf is also active in the food industry, Angst+Pfister was able to score clearly with its new membership in the European Hygienic Engineering and Design Group (EHEDG).
Since 2019, Angst+Pfister has been member of the EHEDG, a non-governmental organization dedicated to optimizing hygienic design in food technology. Through the combination of EHEDG's hygiene expertise with ours on components, materials and rubber compounds we provided Van der Graaf with an innovative and perfect product. Presenting a design that won out over several competitors.
The result was a seal that could withstand the most difficult conditions: it must withstand engine oil and hot water under high pressure and be incorporated into the metal cover in such a way that bacteria don't stand a chance.
A challenge that our engineers mastered with enormous innovative power and designed a seal that was approved by the EHEDG and recognized by the expert organization Dekra as meeting the IP69K protection standard, which confirms that neither dust nor hot water under high pressure can penetrate the seal.
Once again it shows that our many years of experience, our flexibility and our striving for the perfect solution ultimately create added value for the customer.
If you want to learn more about the partnership with Van der Graaf or EHEDG, take a look at our online magazine.
published: Sep 10, 2020, 2:45:00 PM by: Angst+Pfister Group